Best Canyoning in Lake Bled
–10%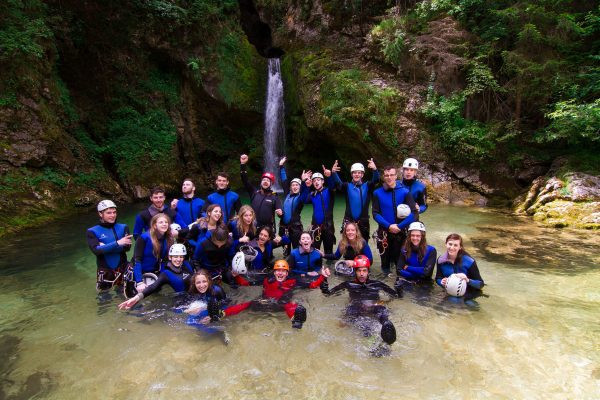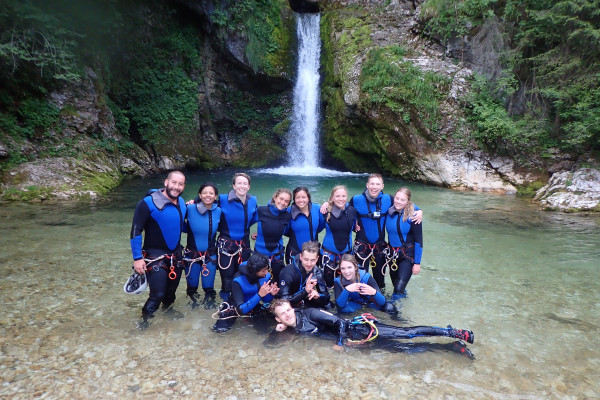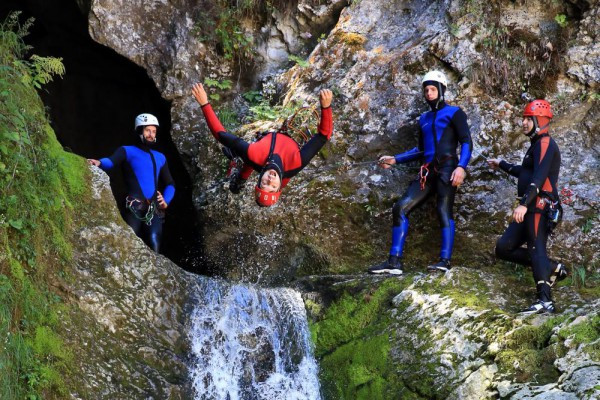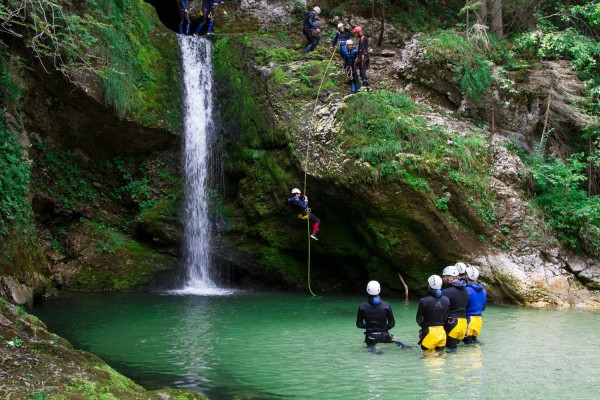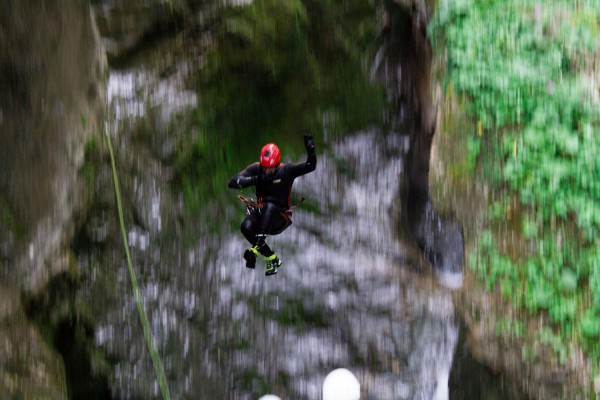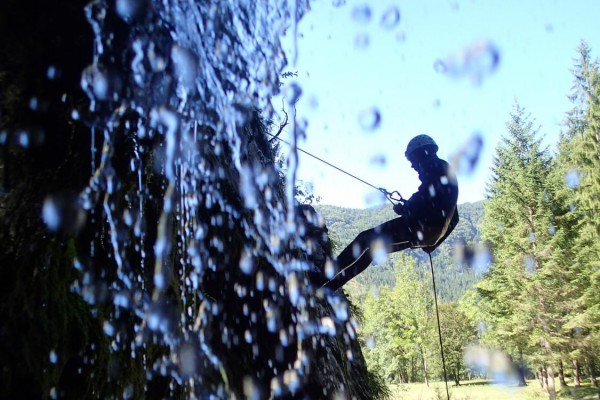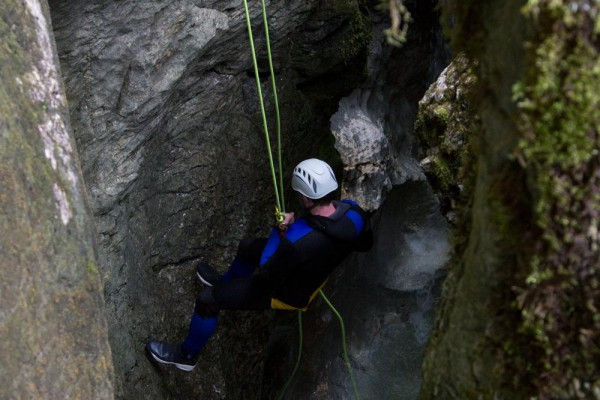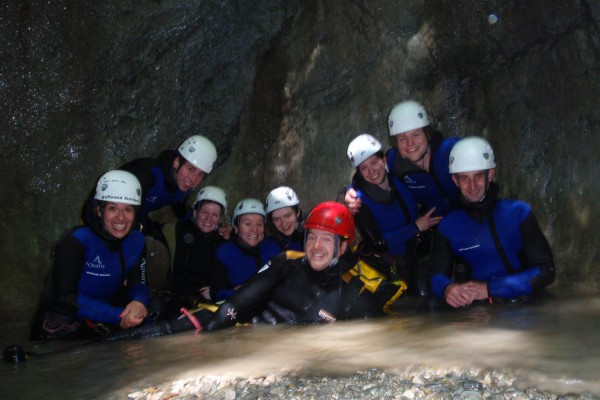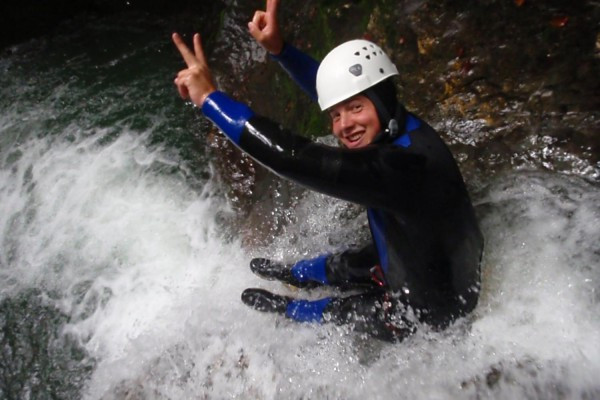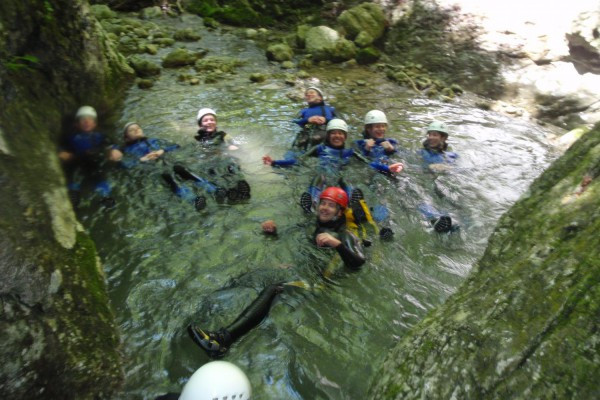 Canyoning is one of the most popular guided activities in the Bled area. You will take a short hike, swim, jump, abseil, and slide down the river bed of a canyon. Join us on an adrenaline rush, step out of your comfort zone in the hands of our experienced guides with the best canyoning in lake Bled.
Escape from the crowds in Bled town
Informative, friendly and professional guides
Explore nature in an active way
Best way to cool off in the summer
Included

Hotel/hostel/apartment/campsite pickup and drop-off (Bled and surroundings 15km).

Informative, friendly and professional licensed guide

All necessary equipment included

Not included

Food and drinks

Duration
3 Hours
Bring along

Please bring a towel and swimsuit to wear underneath the wetsuit.

Participants
Tour runs for 2 to 16 participants
Categories
Canyoning, Extreme Sports
Languages
English, German, Russian
Opening hours
Requirements

Minimum age 10 years
Minimum height 140 cm (4ft 7in)
Not recommended for pregnant women or people with medical issues (if you have a condition please contact us before booking)
Swimming ability mandatory
Heights, shoe sizes and Bled accommodation address must be advised at time of booking

Important information

Please bring your swimsuit to wear underneath the wetsuit and a towel
All passenger Shoe Sizes and Heights should be advised at time of booking
Minimum age is 10 years as well as over 140 cm tall
Children must be accompanied by an adult
Venue
If you will be arriving in your own car there is a parking area right across the street from the meeting point next to the football field. There is a parking machine there and for a fee of a few € you can print out the ticket and place it on the dashboard of your car.
Back Bar & Hostel
21 Grajska cesta, Bled, Slovenija
visitor parking is available
Train Station Bled jezero , Train Station Lesce - Bled, Bus Station Bled
Offered by
OUTdoor Slovenia
4260 - Bled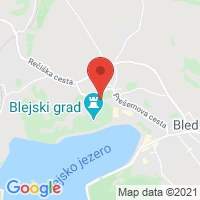 23 Reviews
| | |
| --- | --- |
| Overall rating | |
| Value | |
| Fun factor | |
Best experience, ever!
Our guide picked us up at our accommodation. He was a real fun guy and made sure everything was safe during the trip. After a short instruction and a walk to the starting point, the experience began with a big jump. My son and daughter really loved the jumping, swimming, abseiling, sliding and enjoying the scenery. As my son (13) described it: "Best experience, ever!"
by Antoine on 07/31/2020
Hello Antoine! Thank you very much for coming with us and sharing your canyoning experience with our guide. We are glad you found him professional and fun. We are happy to hear you had a good time, and that your children enjoyed it as well. We wish you and your family many more adventures! Sašo, Nik, Jani, Barbara, Rok and others at Outdoor Slovenia
Canyoning in Lake Bled, super spaßig!
Die Buchung war super einfach, man musste jedoch das Paket Fotos und Videos dazu buchen ubd es war nicht optional. Es gab einen Abholservice (fast egal von welchem Hostel aus) und die Guids waren super nett und haben alles sehr gut erklärt (zwar auf englisch aber alles super verständlich und mit Humor erzählt). Dir Aktivität an sich hat uns sehr gut gefallen, die Guids haben immer auf die ganze Truppe geachtet und man hatte z. B. beim Springen die Zeit die man brauchte. Für unseren Geschmack war es zu wenig (nur ein Mal) rutschen und an sich war die Route auch ziemlich kurz. Ansonsten alles top!
by Alina Dierks on 08/24/2019
Hello Alina! Thank you for coming with us, and thanks for your feedback. Everyone has the option to purchase the canyoning photos in advance should they decide to do so. We have offered this extra option for the guests who prefer not to bring anything with them to the trip, and like to have everything prepaid. This is completely optional however, guests can also purchase the photos at the end of the trip or not at all. The reason why we charge for the photos as opposed to just giving them for free is because ve value and appreciae our team of guides. Baing a canyoning guide is a demanding job. In addition to making sure everyone is safe, they are also the entertainment crew. Because they go out of their way to capture memories for guests also, we give half of the photo money to them as a bonus for extra effort, and the other half goes for camera maintenance. Nevertheless we are happy to hear you had fun canyoning with us. Thank you very much for taking the time to write a review. We wish you many more adventures! Sašo
Small canyon, too many people.
Small gorge, too many people. Compared to the gorges in Austria, this is really a very small tour with a hefty price. And then another group of 15 people. This is too much...
by Stefan Schmerbeck on 08/17/2019
Hello Stefan! Thank you for your feedback. We appreciate your opinion, and we always take into consideration every response we receive, and we are sorry that the canyoning tour didn't match your expectations. Slovenia is a small country, and nothing here is on a grand scale. So far we have not received any other negative feedback regarding the price of our trips being unsuitable for the trip duration. The trip was put together according to our feedback from years of experience. It showed that people visiting Bled prefer a shorter trip which gives them enough time in the day to add a second activity or to do something else. The trip itinerary and duration along with the detailed description can be found on our site so everyone can see it before deciding to book. We also do our very best to keep our groups on the small side however this is not always possible in the height of the main summer season. The canyon itself is not owned by any one company (the waterways in Slovenia are considered a public good) and there are others who are free to use them as well. For those who do not feel comfortable sharing their experience with others, we do have a private option with different departure times as well where you can hire a guide just for you and your group. Again, we are sorry you felt that the trip deserves such a low rating. It is our most popular tour, and this is the first negative feedback we have ever received for it. Again, we do take everything into consideration, and we will make the information even clearer on our site. Kind regards from Bled, Sašo
know betterbook bettergo better
TripAdvisor Traveler Rating
273 Reviews
More offers from this partner